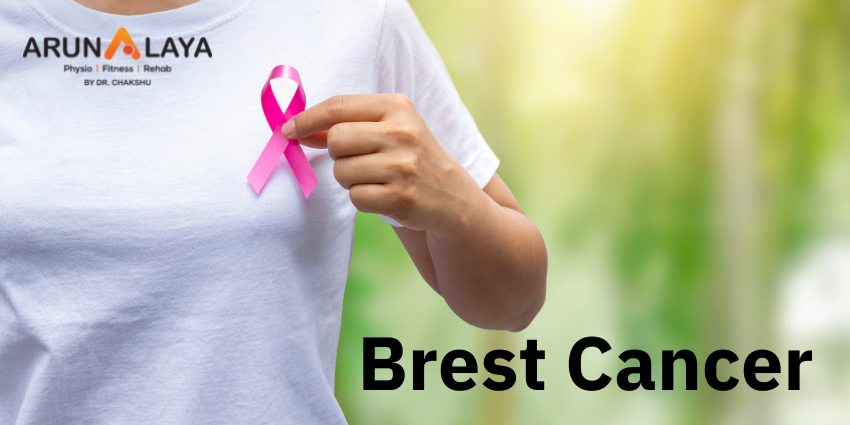 Role of Physiotherapy in Breast Cancer Recovery
Treatment to the chest and axilla for breast cancer can lead to secondary complications in the arm like pain, reduced movement of the shoulder joint, muscle weakness, swelling (lymphedema) and difficulty to carry out activities of daily activities. The problems can persist for many years after treatment. Guidelines state that when indicated patients with breast cancer should be referred to physiotherapy early, however this is not a routine practice.
There is a need for a proactive model of care which encourages early exercise-based rehabilitation.
Symptoms experienced by patients following Breast cancer treatment:
• Decreased strength of the upper extremity
• Decreased shoulder mobility
• Scar tightness (breast and/or axilla)  
• Upper extremity ache 
• Lymphedema of the upper extremity
• Neuropathic pain  
• Musculoskeletal pain (breast, axilla, and/or neck-shoulder) 
• Chronic pain
PT treatment includes mobility exercises and myofascial release for improving mobility and tissue extensibility. Early mobility exercises are given to prevent the development of or treat restricted arm movement and lymphedema. Muscle groups that should be targeted include the rotator cuff, serratus anterior, trapezius, rhomboids, biceps, and pectoralis muscles.
Research shows that physical exercise helps in reducing mortality and improving overall quality of life.
FITT Principle After Breast Cancer
Warm up:
• 5-10 minutes to raise heart rate
Aerobic Exercise:
• Frequency:3 x 5 times per week
• Intensity: 50-70% of max. heart rate
• Type: walking cycling aerobic activity
• Time: 30 minutes maintaining as a long term routine
Resistance Training:
• Frequency:2/3 times a week
• Intensity: 12/15 reps of 60 % of 1RM
• Type: Supervised resistance program of major muscle groups
• Time: 6 weeks
Aerobic exercise (walking, cycling, or swimming) has been shown to decrease tiredness, improve quality of life, reduce cognitive impairments associated with various cancer therapies, improve cardiovascular outcomes, and improve sleep issues.
Complete Decongestive Therapy (CDT)
CDT combines many different treatment approaches and can effectively reduce the volume of lymphedema, improve patients' mobility and increase quality of life
It consists of:
• Manual Lymphatic Drainage (MLD): A light skin stretching technique that stimulates the lymphatic system.
• Compression: To support the area and reduce swelling with layered bandaging with foam or specially fitted garments.
• Exercises: To pump the swelling out.
• Skin Care: To prevent infections, the skin is kept clean and moisturized
Life after cancer:
The end of treatment does not mean end of the journey with breast cancer.
Common side effects of chemotherapy are fatigue and a phenomenon called 'chemobrain' which are mental changes such as memory deficits and the inability to focus.
A Physical Capability Assessment is carried out to assist the patient with her plans to return to work. This  includes work place assessment and then an adjustment of duties is recommended to the patient.
Best Physiotherapy Home Service In Delhi , Sports Rehab, Pain Management , Neuro Rehab, Post -surgical Stiffness and More Service's at Home.