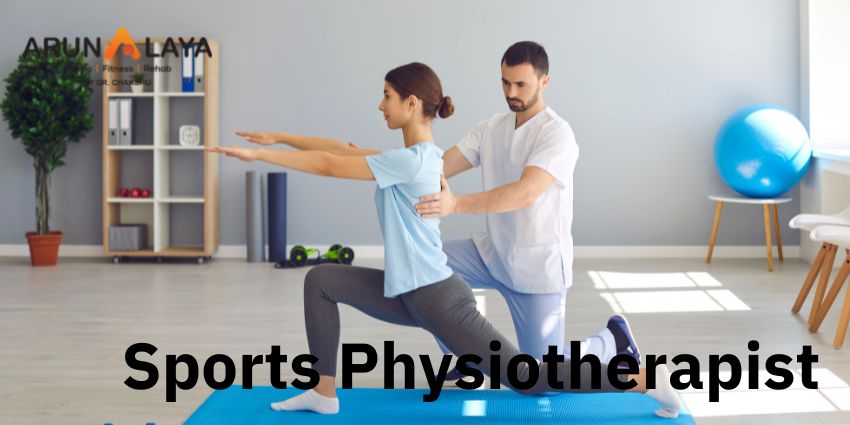 How does Physiotherapist help in Sports?
Sports Performance Enhancement
Sports Rehabilitation
With sports injuries having immediate and significant detrimental effects on your function, they are still a part of the game. Considering this, it is important to get you back in action. Our sports rehabilitation programme will help you recover and maximize your functional capacity, fitness and performance. Arunalaya Healthcare has a highly experienced team of physiotherapists who offer specialized treatment services for any sports injury.
We use sophisticated diagnostics and implement advanced technology and methods.We are properly geared to meet any eventuality and bring back injured Sportspersons to their best shape. A team of fully trained physiotherapists are available to carry out specialized treatment techniques like Manual Therapy for Myofascial Trigger Points, Cryotherapy and low impact exercises using Medicine ball.
We are committed to providing state-of-the-art clinical care for athletes of all ages and skill levels. Although you may be injured, you can still stay in shape, and can use the injury period as an opportunity to strengthen other areas of the body.
Scientific Therapeutic Gym
Arunalaya Healthcare offers a personalized, accessible, and inclusive place for your workout! Achieve your individual fitness goals under the supervision of certified trainers. Whether you're a beginner or a fitness regular, we'll help you get to a healthier place. The purpose of a medical gym isn't just to help clients lose weight or gain muscle, but to help them manage their health. Unlike your typical gyms or clubs, medical fitness centers are staffed by exercise physiologists, physical therapists or athletic trainers. Fitness is not the prerogative of a few. It is the right of each individual on the same premise, we committed to make Healthy happen to all.
Scientific Nutrition & Dietetics
We aim to provide you with the highest quality nutrition care. Based on your nutrition status, condition, illness, injury, or personal goals, a dietitian will work with you to optimize your health and improve your recovery. Our dietitians can help tailor your diet to meet your personal and cultural preferences and health needs, some of which may include:
• Diabetes
• High cholesterol
• High blood pressure
• Digestive disorders
• Eating disorders/disordered eating, etc
They will identify dangerous dietary behaviors and design a nutritious and economic meal plan for you
IPD Rehabilitation
We provide stay and treatment in the same premises to offer better care and have better outcomes for you.
We have a large workforce of physiotherapists who work as part of multi-disciplinary teams to provide comprehensive assessment, treatment and rehabilitation for inpatients. In partnership with each patient, and/or their caregivers, they plan treatment to enhance an individual's recovery and to ensure a timely, safe and successful discharge from hospital
Ergonomics
Ergonomic assessments are aimed at reducing the risk of injury within the workplace. There are many benefits to both the employer (for example financial savings and improved staff morale) and the employee (reduced risk of injury).
An ergonomic assessment will include the physiotherapist assessing the environment the staff work in and the staff themselves. This can also include working duties analysis (like bending, lifting, repetitive movements, etc), work tools assessment, staff postures and much more. To improve workspaces and environment and reduce the risk of injury, we analyze the workplace to design and rearrange so that it fits you when in use.
How Physical Therapy Can Prevent Injuries · Regular physiotherapy can help you to avoid surgery. We have a highly experienced team of physiotherapists. visit for more info.